Meet "Joe." He's a buyer who works for a national retailer. One of Joe's responsibilities is purchasing retail fixtures for store openings and remodels.
Unfortunately, Joe says the purchasing process not only takes up too much of his time; it's also getting more difficult, especially as he confronts growing challenges like:
Rising fixture expenses
Market price swings in raw materials
Supply chain disruptions
Manufacturer delays
Fixture delivery snafus
Truth be told, Joe is a composite portrait of many of the retailers we encounter. If you share Joe's challenges, then you can also understand the growing need for a better way to purchase fixtures.
In the following, we'll discuss six ways that retail fixture consolidation can help you purchase fixtures much more strategically. But first, let's clarify what retail fixture consolidation is.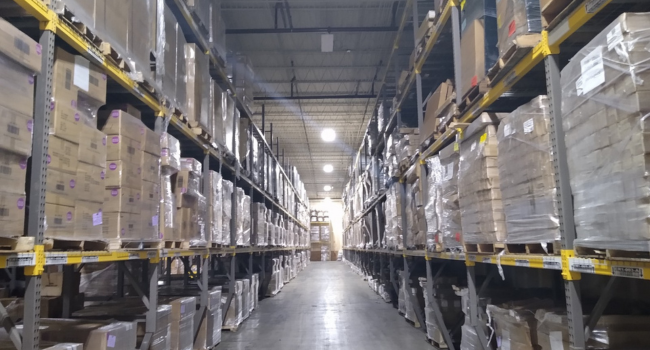 Retail fixture consolidation 101
Retail fixture consolidation involves partnering with a consolidator who receives and warehouses the furniture, fixtures, and equipment (FFE) needed for store openings and remodels.
If you'd like more details on the nuts and bolts of this approach, be sure to check out What Is Inventory Consolidation for Retail Fixtures? But for our purposes here, let's dive specifically into how retail fixture consolidation can improve the way you purchase fixtures.
Combat rising costs by leveraging bulk rates or tiered pricing
Shoppers aren't the only ones feeling the pain of lingering inflation. Retailers feel it, too, which is why finding new ways to cut costs is as important as ever.
With retail fixture consolidation, you always have designated warehouse space available so you can build up your fixture inventory. This enables you to leverage the bulk rate or tiered pricing plans that fixture manufacturers typically offer for larger orders. And the cost savings from that can be significant.
"Think about it like this," says retail fixtures expert Phil Vines, Director of Business Development for Store Opening Solutions. "Rather than buy one store's worth of fixtures for $150K, you could possibly buy 10 stores' worth for an average of $140K. Now, even with the consolidator's fee, you're still pocketing tens of thousands of dollars you'd never have in the first place."
Prevent delays and ride out "supply chain headwinds"
When stores don't open on time, anticipated revenue is lost forever—not the kind of results you want to bring back to executives and shareholders. But that's the risk you face when you live and die by perfectly timed factory-direct deliveries.
You can eliminate that risk with retail fixture consolidation, which allows you to order fixtures well in advance, build up a safety stock of reserve fixtures, and stay prepared for when circumstances beyond your control disrupt the supply chain.
"When you first hear rumblings that the supply chain is slowing or your manufacturer is getting backed up, you can actually do something about it," says Vines, "like ordering fixtures now and positioning yourself to ride out the supply chain headwinds."
Stop being at the mercy of market price swings
Let's say steel costs shoot way up, but you also have a slew of store openings coming up. For you to stay on schedule, getting your orders in ASAP is the priority. As for the higher prices you'll be paying, you have little recourse but to wince and accept them.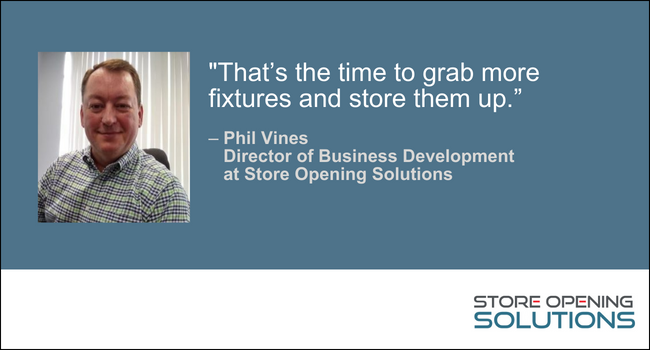 But retail fixture consolidation creates a new purchasing dynamic. For example, if the steel index bottoms out, "That's the time to grab more fixtures and store them up," says Vines. "It doesn't matter if it's January and you don't use them 'til October. What matters is you saved that money and you have those fixtures now rather than buying in August when steel went back up."
On the flip side, consolidation also empowers you to delay orders when prices are spiking. Remember, since you have a safety stock of fixtures to rely on, you can wait and see if the prices trend downward before you place another order.
Stop "chasing fixtures" and having them run your life
Fixtures are likely just one item on your long list of responsibilities. But they may be dominating your time because you constantly need to be planning your fixture schedule.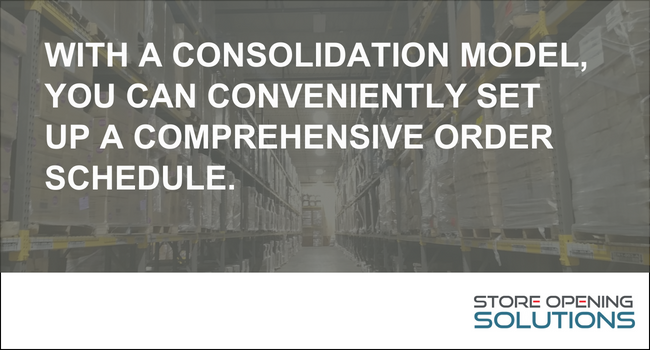 But it doesn't have to be that way. Vines suggests imagining you're opening a hundred stores a year, and your budget only allows you to release a certain amount of capital funds per quarter. With a consolidation model, you can conveniently set up a comprehensive order schedule and do 25% now and 25% for each subsequent quarter.
This also lets you be much more efficient with your time. "In that scenario, you're not continually chasing fixtures," says Vines. "You just focus on them for a couple of days and then you're done. You don't have to come back to fixtures for another three months."
Stop being "held captive" by single vendors for your fixtures
Acquiring your store fixtures through a factory-direct model requires your manufacturers to understand your program in great detail and develop precise production timelines. And that takes a lot of time and effort—both on your manufacturers' part and yours.
But with consolidation, all you need to do is have your vendors produce fixtures to your specifications and ship them to your consolidator's warehouse. Or, as Vines put it, "You don't have to teach them how to do a whole store."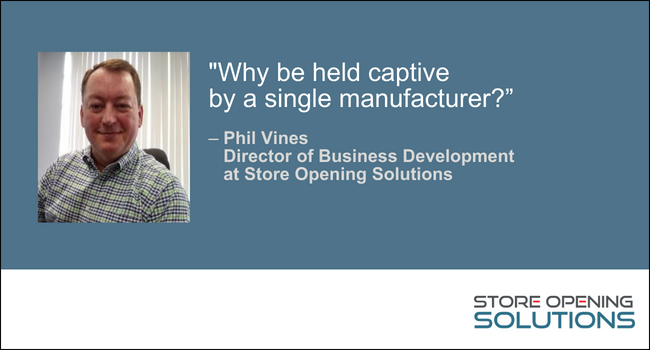 And that makes it a lot easier to diversify your fixture vendors. "Why be held captive by a single manufacturer? Having more options means when one stumbles, you can turn to your other sources," says Vines. Plus, you can ramp up your order when one of them offers lower prices.
Don't get stuck with items you no longer need because of store redraws
Any retailer can tell you that store plans change. But the real pain in a store redraw occurs when a fixture order is already in process.
Now you have fixtures or equipment coming that you may no longer need in that specific store. Unfortunately, with direct manufacturer-to-store fixture ordering, it can be extremely difficult to modify an order on the fly.
On the other hand, Vines says retail fixture consolidation lets you capture store redraws without a lot of fuss. "With a quick call or email to your consolidator, you can have specific fixtures switched out immediately before the trucks leave the facility, whether for one store or a wave of them."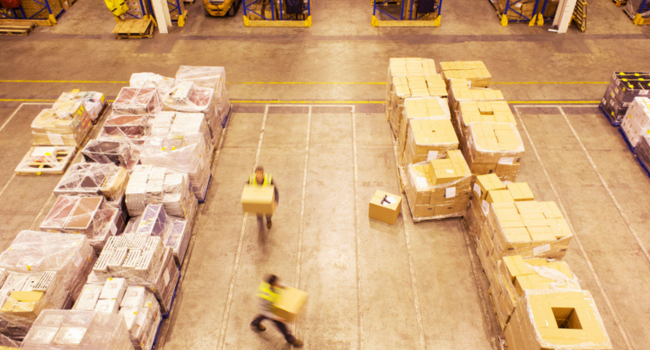 Purchasing more strategically starts with empowering yourself
When it comes to purchasing retail fixtures, there will always be factors out of your control. But when you're able to maximize what you can control, you're positioning yourself to purchase smarter. And that's exactly what retail fixture consolidation enables you to do.
"All of your purchasing is predicated on having that consolidation warehouse for your fixtures," says Vines. "Now your consolidator is picking and shipping fixtures as needed. You're saving time and money, and reducing a variety of risks."

If you'd like to learn more about how consolidation can help you, be sure to reach out to Store Opening Solutions. For more than 25 years, our retail fixture consolidation services have helped some of the biggest names in retail solve their fixture purchasing challenges.
About Store Opening Solutions
We support the strategic vision of retail organizations with focused expertise in the consolidation and installation of store fixtures and equipment. Our dedicated team embraces your vision and partners with you to create appropriate inventory control processes.