If you're a retailer who needs fixtures for upcoming store openings or remodels, you have a new problem to confront: Fixture manufacturers are requiring full-pallet order minimums to help them run more efficiently. This also means they're moving away from store-specific production runs and shipments.
"This is a huge shift in industry dynamics," says retail fixtures expert Phil Vines, Director of Business Development for Store Opening Solutions, "and a lot of retailers are going to encounter challenges they never expected to deal with." Examples of those challenges include:
Dealing with unfamiliar project take-off tasks
Finding a reliable option for warehousing fixtures (including extra inventory)
Figuring out a way to pick, pack, and re-palletize fixtures for specific store projects
So what can retailers do to adapt? In the following, we'll detail how retail fixture consolidation can help you both adjust to the new demands of bulk purchasing and improve your overall fixtures process for the long term.
Before we define fixture consolidation, here's a highlight video on how fixture consolidation can solve the challenges of new bulk purchase order requirements for retail fixtures.
The fundamentals of retail fixture consolidation
The process of retail fixture consolidation involves a consolidator receiving and warehousing the furniture, fixtures, and equipment (FFE) that a retailer needs for new store openings and remodels. The consolidator also inspects, organizes, re-palletizes, and ships FFE to specific store sites precisely when they're needed.
Retailers have been gaining advantages with fixture consolidation for years, including minimizing points of contact, reducing shipping risks and overhead, and gaining better project visibility.
But Phil Vines from Store Opening Solutions has some insight: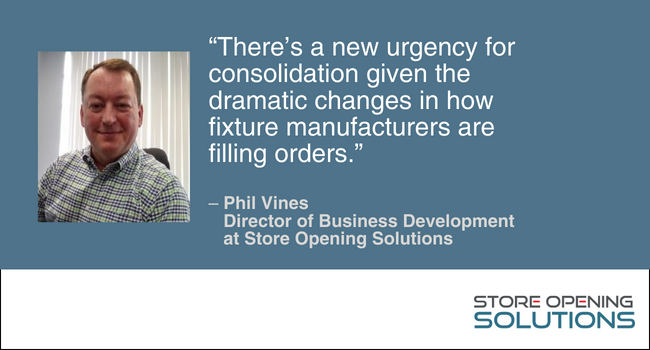 Let's dive deeper into the fixture-related challenges retailers are facing and also see how fixture consolidation can solve them.
Challenge 1: Who will handle project take-off tasks?
Rather than fill exact quantity orders from your store drawings, more and more fixture manufacturers are running production lines based on how many full pallets of fixtures you request.
"That means you can't just float, say, five store drawings per quarter to a manufacturer and expect them to handle things the way they used to," says Vines.
Instead, you'll need to absorb project take-off tasks that require, for example, analyzing floor plans and quantifying the exact number of fixtures you need for a given store.
With somewhere around 40 to 60 fixture SKUs in a store, that's no small detail. "Uprights, pegboard, base decks, kick plates, shelves of different sizes—figuring out fixtures you need is going to require time, effort, and expertise that you may not be ready to handle," says Vines.
The Solution: Expert support for quantifying fixture needs
A consolidator has the expertise to create a precise, accurate fixture order from your store floor plans. "This task isn't something that they're learning on the fly," says Vines. "It's something they do routinely."
Moreover, they even have the insight to identify cost-effective alternatives for certain fixture applications, insight that can end up saving you a lot of money on large-scale orders.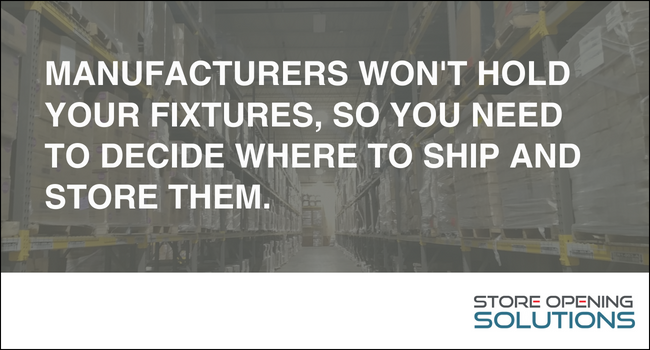 Challenge 2: Where do you warehouse the fixtures?
With more manufacturers filling fixture orders in bulk, you no longer can rely on store-specific orders shipped directly to sites. And since manufacturers are not going to hold your fixtures, you now need to figure out where to have your orders shipped and warehoused.
Can you store them somewhere in-house? For some retailers, this simply isn't an option due to lack of space. Others might consider utilizing their distribution centers. But Vines says this "remedy" may generate even more problems because distribution centers aren't really set up to do that effectively.
"You also have to remember that all the workers who are part of distribution know how to build and ship truck loads of retail merchandise, not store fixture inventory. That's a different animal altogether," says Vines. (See more on that in No. 3 below.)
And what about when truck load space is tight and stores need merchandise ASAP? "Those pallets of fixtures are going to get bumped," Vines says. "And that has terrible consequences because stores can't open on schedule and revenue is lost for good."
The Solution: Reliable storage specifically for your fixtures
By working with a consolidator, your fixture orders can be shipped to one of their warehouses. That means you can rely on having space allocated specifically for store fixtures. Plus, you can count on having a system in place for shipping fixtures precisely when they need to be.
This reliable storage option also empowers you to:
Plan ahead and warehouse fixtures in advance of upcoming projects
Develop a safety stock to mitigate the risk of delays
Warehouse and inventory the extra fixtures that come with bulk ordering
Buy more fixtures in a favorable market and capitalize on savings opportunities with bulk purchases
Challenge 3: How do you handle the complicated picking, packing, and shipping?
What if you think you've found a possible storage solution with a third-party warehouse? Unfortunately, a huge hurdle still remains: Those pallets of fixtures are far from ready to be shipped to specific stores.
Vines says warehouse partners may be excellent at bringing pallets in and shipping them back out. But they won't have a crucial component you need for your store projects to go smoothly.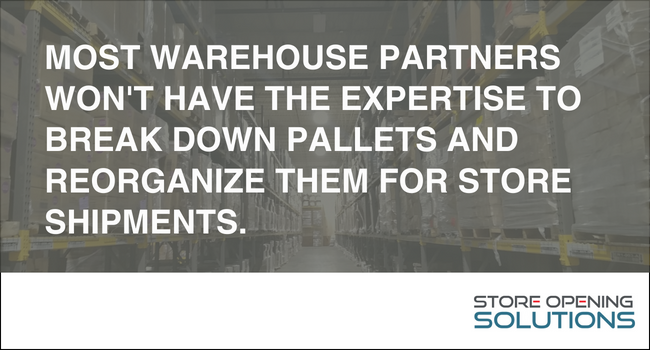 "They're not prepared to break down those pallets and accurately reorganize them for store shipments," he says. "In fact, retailers trying to work with warehouses have told me they're running into various problems due to the lack of retail fixture expertise."
The Solution: Retail fixture experts who do this every day
When you work with a fixture consolidator, you have an experienced partner who actually specializes in retail fixtures. More specifically, they're experts at the following:
Inspecting fixtures for damage
Inventorying and tracking them so you know where your fixtures are at any given moment
Picking, packing, and re-palletizing accurately
Executing just-in-time shipments to keep projects on schedule
Challenge 4: How can you efficiently recover and reuse excess fixtures from the field?
Now may be a good time to also look for alternatives to buying new fixtures, like using fixtures you already own. Though this will likely only be a partial remedy, it's still a way to help save costs and keep projects on schedule, says Vines.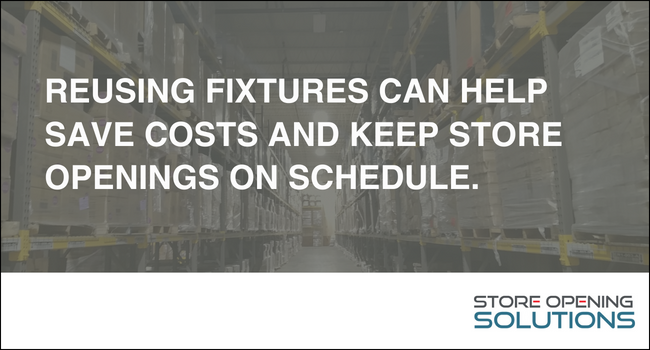 For example, maybe you're slated to close a certain number of stores in the coming year. Why not recover the fixtures from those stores so you can use them where they're needed elsewhere?
You may be thinking that sounds like a good idea in theory, but how can you implement all the steps required to do that in a way that makes the effort worth it?
The Solution: A careful process known as reverse logistics
Fortunately, there's a system for helping you recover fixtures from the field. It's called reverse logistics and it enables you to recover, inventory, and reuse available fixtures so that nothing goes to waste.
It may seem complicated, but a retail fixture consolidator can help coordinate the entire process:
Efficiently retrieving available fixtures
Coordinating their refurbishment, if needed
Incorporating them back into your trackable fixture inventory
Warehousing them until they're needed
Picking, packing, and shipping them according to individual store needs
Be proactive and start searching for a long-term remedy now
For you to effectively handle the big changes in fixture manufacturing described above, you'll need to do more than just weather a temporary storm.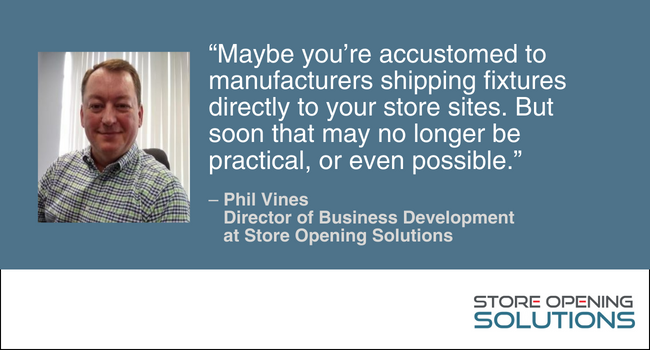 That's why this is actually the perfect time to start building a new system—and a fixtures inventory—for your next surge of store projects.
Store Opening Solutions can help. For nearly 30 years, our fixture consolidation services have helped some of the biggest names in retail. If you're facing new challenges as fixture manufacturers shift to bulk purchase orders, be sure to contact us to start a conversation.
About Store Opening Solutions
We support the strategic vision of retail organizations with focused expertise in the consolidation and installation of store fixtures and equipment. Our dedicated team embraces your vision and partners with you to create appropriate inventory control processes.