In recent years, retailers who needed store fixtures encountered profound challenges due to supply chain upheaval. More importantly, those challenges forced many to delay or even cancel scheduled store openings and remodels.
But one retailer in particular managed to keep their store projects on schedule: Dollar General.
In 2021, for example, when the global supply chain crisis was fully established, the discount store giant still managed to open more than 1,000 stores. So, how did they do it?
"Dollar General has said that fixture and supply consolidation greatly contributed to maintaining their store opening pace," says Phil Vines, Director of Business Development for Store Opening Solutions.
What went wrong (and are we out of the woods yet)?
The pandemic caused construction, manufacturing, shipping, and delivery delays worldwide while also spawning inflation and labor shortages. And a war breaking out in Eastern Europe only added to the chaos.
Retailers who needed store fixtures had to confront a variety of issues. Here are just a few examples:
A negative ripple effect. Delays in raw material delivery—as well as labor shortages—led to delays further down the supply chain, including delays in fixture delivery and, ultimately, in store openings.
Increased costs. Raw material prices soared, causing higher costs for fixtures. In some cases, retailers had to use third-party distributors, an option that meant swallowing exorbitant mark-ups of up to 100% more than the manufacturer price.
Greater challenge just to find fixtures. Retailers scrambled, often unsuccessfully, to find vendors who could fulfill orders. Meanwhile, some manufacturers enforced quotas that limited what retailers could order, or they referred retailers to a third-party distributor (see directly above).
Are we fully out of the woods yet when it comes to supply chain issues? A recent survey of supply chain decision-makers suggests we're probably not, with 82% of respondents anticipating conditions will stay the same or worsen in the next year.
And don't forget about the real possibility of future disruptions from:
Geopolitical conflicts
Extreme weather events
Another pandemic
Let's now take a closer look at fixture consolidation. This is a strategic approach that retailers such as Dollar General have been using to not only weather a supply chain storm but also to help their store opening programs flourish for the long term.
3 ways consolidation helps protect you during a supply chain crisis
A retailer who uses inventory consolidation works with a consolidator who receives and warehouses the furniture, fixtures, and equipment (FFE) needed for new store openings and remodels.
Retailers have been gaining advantages with fixture consolidation for years. But the supply chain challenges of the past couple of years underscore just how valuable this approach can be for reducing your risk and keeping your store project schedule on track.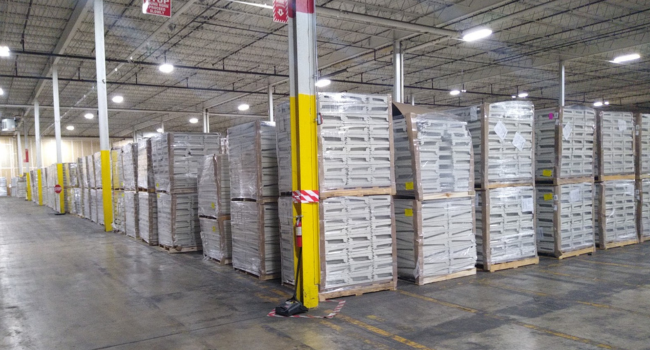 1. Build a safety stock and stop living and dying by factory-direct shipments
With consolidation, you can rely on having a physical space designated specifically for fixture inventory storage. That means you're now able to build up a reserve of fixtures—i.e., a safety stock—to handle potential disruptions to your best-laid store project plans.
At the first hint of supply chain trouble, explains Store Opening Solutions' Phil Vines, you can start ramping up your fixture orders and keep that safety stock full. And by doing that, you mitigate the risk of delays in the supply chain or the manufacturing process.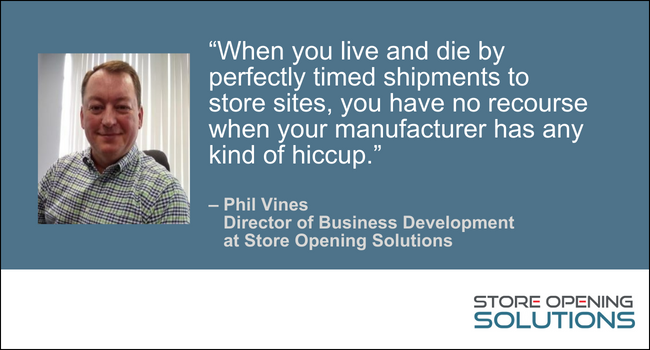 On the other hand, "When you live and die by perfectly timed shipments to store sites, you have no recourse when your manufacturer has any kind of hiccup," Vines says.
Also, with a reliable storage option in place, you can purchase more fixtures when, for example, steel prices drop and you want to take advantage of a buyer's market.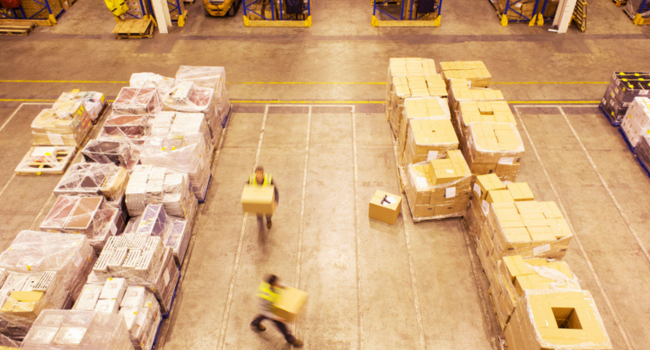 2. Have a go-to team of fixture experts to handle just-in-time store deliveries
Having a physical space to store fixtures and develop a safety stock (see No. 1 above) gives you a huge advantage. But it's not enough.
In theory, you could house your fixtures at a company-owned facility or distribution center, or even a third-party warehouser. But Vines points out that the workers involved with those options lack a fundamental quality: retail fixture expertise.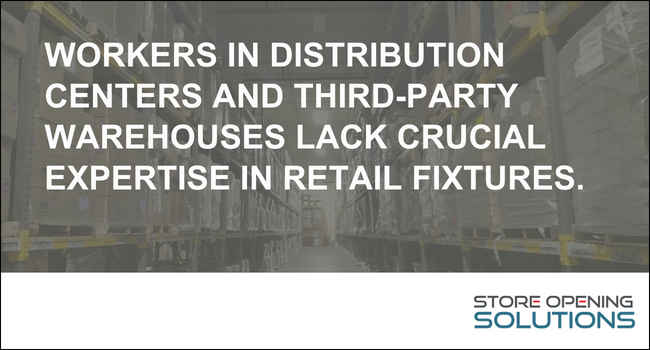 More specifically, unlike a team of consolidation workers, "They're not prepared to break down those pallets and accurately reorganize them for store shipments," he says.
In addition, working with a consolidator can give you benefits like the following, which can be particularly valuable amidst supply chain upheaval:
Full visibility of your fixture inventory via an advanced tracking and management system
The ability to implement reverse logistics for recovering available fixtures from the field
Experience coordinating just-in-time delivery to keep projects on schedule
3. Become more agile by diversifying your vendors much more easily
When you opt for a consolidation model, you move away from store-direct orders. That approach requires a manufacturer to understand your fixture program in great detail and develop production timelines to meet your store project schedule.
All that time-consuming pre-production makes it harder to onboard a new manufacturer quickly. But with consolidation, all your manufacturer has to do is produce fixtures to your specifications and then ship them to your consolidator's warehouse.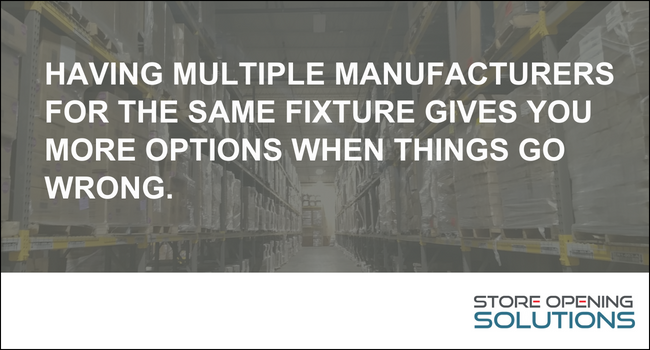 That makes it a lot easier to diversify your stable of retail fixture suppliers and react more effectively to potential interruptions.
"If you have two or three manufacturers for an exact fixture," explains Vines, "when one stumbles there's a chance another can pick up the slack. So, you're giving yourself more flexibility when things beyond your control go wrong."
Learn from the past, prepare for the future
Now that you have a better understanding of retail fixture consolidation, you may want to look back at the past couple of years more closely.
How well did you handle your supply chain challenges, particularly when it came to store fixtures? Did you have to report store opening delays, or worse, to company leadership? And perhaps just as important, did your competitors struggle as much as you did?
If you'd like to learn how you could benefit from fixture consolidation, be sure to reach out to Store Opening Solutions. For more than 25 years, we've been helping brick-and-mortar retailers like Dollar General implement major store opening and remodel programs, even during the most challenging times.
About Store Opening Solutions
We support the strategic vision of retail organizations with focused expertise in the consolidation and installation of store fixtures and equipment. Our dedicated team embraces your vision and partners with you to create appropriate inventory control processes.