For your store opening and remodel projects to be successful, you depend on the timely arrival of retail fixtures and other not-for-resale goods.
Unfortunately, you may be experiencing an unprecedented number of challenges on the store fixture front. For example, do any of these ring true for you?
You're struggling with fixture manufacturers' new bulk purchase order minimums
You're spending more money than ever to transport fixtures
You're devoting more and more time to managing fixture orders
You're scrambling to find warehouse space for excess fixtures
You're dealing with more shipment delays and other order problems
Challenges like these are making it more difficult for your new store and remodel programs to run smoothly and cost-effectively. Fortunately, you have a solution: inventory consolidation for retail fixtures. We'll explain below what that is and highlight how it can transform your retail fixtures process.
What is inventory consolidation for retail fixtures?
A retailer who uses inventory consolidation works with a consolidator who receives and warehouses the furniture, fixtures, and equipment (FFE) that the retailer needs for new store openings and remodels. The consolidator also inspects, organizes, builds custom pallets (if needed), and ships FFE to specific store sites precisely when they're needed.
Retailers have been gaining advantages with fixture consolidation for years, including reducing points of contact, minimizing shipping risks and overhead, and gaining better project visibility.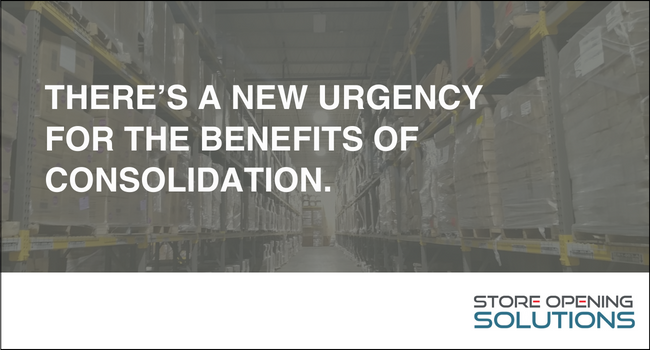 But if you're experiencing any of the challenges described above, there's a new urgency for the benefits of consolidation.
Here are three big reasons to consider inventory consolidation for your own store opening and remodel programs.
1. Consolidation provides you an alternative to multi-vendor, direct-to-store shipping
If you're accustomed to having manufacturers ship fixtures directly to your store sites, soon that option may no longer be practical, or even possible.
Major fixture manufacturers are requiring full-pallet order minimums, which also means they're moving away from store-specific production runs and shipments.
For many retailers, this major shift in industry dynamics is going to bring a cascade of new challenges—from absorbing project take-off tasks to figuring out where to store fixtures.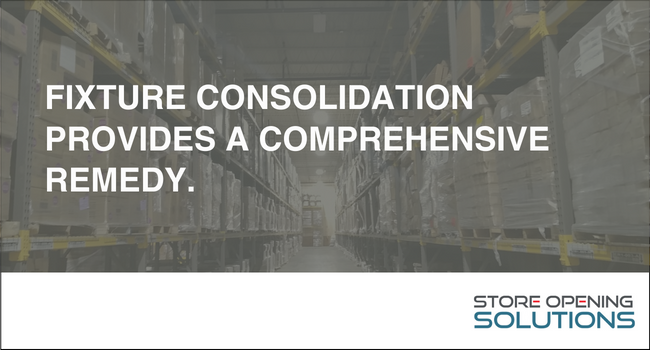 Fixture consolidation provides a comprehensive remedy. A consolidator has the expertise and resources to handle everything from quantifying your store fixture needs to receiving, storing, and shipping your fixtures to store sites.
For more information, check out What to Do When Your Retail Fixtures Manufacturer Requires Bulk Purchasing.
2. Consolidation means experts will pick, pack, and ship store-specific orders
Even if you think you've found a storage solution for your fixtures, a huge hurdle still remains: Those bulk pallets of fixtures are far from ready to be shipped to specific stores.
Whether you warehouse them internally or with a third-party, the pallets will be in the hands of workers who lack the expertise to break them down and accurately reorganize them for store shipments.
But when you work with a fixture consolidator, you have an experienced partner with fixture experts who pick, pack, and repalletize fixtures for just-in-time shipments every day.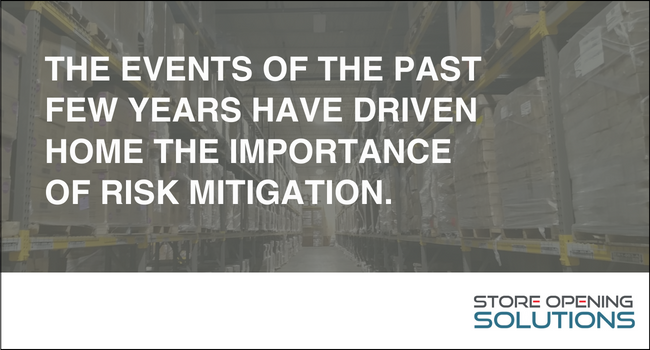 3. Consolidation empowers you to order more strategically and protect yourself from disruptions
You may have weathered the recent supply chain upheaval. But what about when the next crisis emerges? The events of the past few years have driven home the importance of risk mitigation.
And with more manufacturers now requiring full-pallet order minimums, you'll likely be rounding your orders up, creating a lot of extra inventory.
However, by warehousing your fixtures with a consolidator, you can do more than just make the best of challenging conditions. You can transform your long-term fixture planning and flourish in the process with strategies like these:
Build a safety stock of fixtures based on scheduled porjects for the coming year
Inventory the extra fixtures that come with bulk ordering and use them for upcoming projects—or make them part of that safety stock
Capitalize on favorable market conditions by purchasing more in advance to save money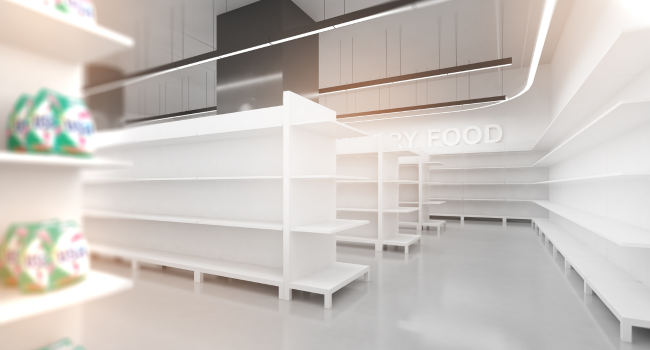 Seize the moment to improve your system
You've gotten just a glimpse of how inventory consolidation can help you. Now it's your turn to make the next move.
In fact, with so many potential challenges in play, this is actually the perfect time to start building a new system—and a fixtures inventory—for your next surge of store projects.
Store Opening Solutions can help. For nearly 30 years, our fixture consolidation services have helped some of the biggest names in retail. If you're facing more and more fixture-related challenges, be sure to contact us to start a conversation.
About Store Opening Solutions
We support the strategic vision of retail organizations with focused expertise in the consolidation and installation of store fixtures and equipment. Our dedicated team embraces your vision and partners with you to create appropriate inventory control processes.