Retailers who acquire numerous store sites all at once face some big challenges. One major hurdle is making sure those stores have the needed fixtures, furniture, and equipment (FF&E) so they can open under a new banner on schedule.
The conventional approach to doing that is relying on vendor-direct, just-in-time deliveries to each site. Unfortunately, that can be a stressful, highly inefficient, and unnecessarily expensive process.
But thankfully, there's an alternative approach to getting FF&E into your newly acquired stores. It's called inventory consolidation, and in the following, we'll explain how this strategy helps rapidly growing retailers improve their store conversion processes—and ultimately their bottom lines.
Efficient store conversions: The fundamentals of FF&E consolidation
Rural lifestyle retailer Tractor Supply Company recently acquired more than 80 stores from Orscheln Farm and Home. With the goal of implementing ultra-efficient store conversions, the company has opted to use inventory consolidation.
Consolidation involves partnering with a consolidator who receives and warehouses the FF&E needed to convert your newly acquired stores. The consolidator also inspects, organizes, re-palletizes, and ships FF&E to specific store sites precisely when they're needed.
There are lots of ways retailers gain advantages with FF&E consolidation. But for our purposes here, we'll explain, step-by-step, how consolidation greatly improves your process of converting acquired stores.
Step 1. Clearing the store sites and deciding what to keep
When retailers like Tractor Supply Company acquire a bunch of stores at once, time is of the essence. Every day that those stores remain closed is a day of missed revenue. But before they can open, their current state has to be addressed.
"Most retailers like to start fresh with emptied out buildings," says Phil Vines, Director of Business Development for Store Opening Solutions. "That means you've got to clean and clear 'em almost immediately."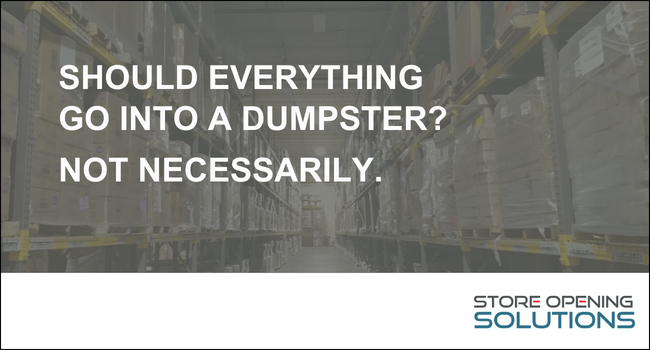 Should everything go into a dumpster? Not necessarily. There may very well be store components you could recover and reuse. "Coolers are a great example," says Vines. "They're expensive and can require longer lead times. You might also want to keep anything from shelving to uprights, depending on color and fit within your current layout."
But coordinating what items to keep may seem like more trouble than it's worth, especially without a system to track and inventory them and a physical space to temporarily store them.
How FF&E consolidation helps: Use reverse logistics to recover usable items
Through a system known as reverse logistics, your consolidator can help you recover, inventory, and reuse FF&E from your acquired sites.
Though it might sound complicated, your consolidator can lead the reverse logistics process by:
Efficiently retrieving designated FF&E
Coordinating fixture refurbishment, if needed
Incorporating retrieved items into your trackable inventory
Storing them in your designated warehouse space until they're needed
Picking, packing, and shipping recovered FF&E upon request
You're now saving money, possibly expediting store openings with FF&E on hand, and even making an eco-friendly move by minimizing waste.
Step 2. Making hundreds of vendor orders for EACH store site
With a conventional approach, getting FF&E to the stores you're converting means coordinating production and shipment schedules with numerous vendors. Your goal with this approach is to have all of those vendors ship orders directly to each store site in a just-in-time fashion.
Unfortunately, it could be a while before the store conversion schedule and individual store planograms are nailed down. Meanwhile, you could be waiting (and waiting) with an anxious eye on the calendar because you know you need to build in enough lead time.
This can be extremely stressful, especially when you're dealing with a wave of store conversion projects on a tight schedule. "Trying to track and manage hundreds of vendor orders, potentially around the country, so that they all arrive exactly when and where they need to—that can be a nightmare," says Vines.
How FF&E consolidation helps: Simplify ordering and save money with bulk buying
By using consolidation in your store conversion process, you can prevent the agonizing waiting game by ordering FF&E as soon as possible and then having vendors ship orders to your consolidator's warehouse.
Although each store site may vary slightly in layout and square footage, you don't need to have exact numbers at this point. Vines says you can likely get quite close with per-store estimates. "Then, when the store drawings do come out, we can pick those exact numbers from your inventory and fill individual store orders when needed."
Here are some more specific ways that consolidation can transform how you order FF&E:
Buy FF&E for acquired stores all at once and save money with bulk rate discounts
Gain more control of your schedule and stop living and dying by perfectly timed, vendor-direct shipments
Simplify delivery by coordinating directly with one party, your consolidator
Adapt to likely schedule changes (or order changes) much more easily with one phone call to your consolidator
Step 3. Coordinating—and paying for—extensive logistics and transportation
We've already touched on how complicated and stressful relying on factory-direct, just-in-time deliveries can be for your store conversion programs. But taking a closer look at the logistics and transportation involved with this approach reveals myriad inefficiencies, along with the extra costs that come with them.
Here's one big example: A direct-to-store supply chain model relies on an LTL (less-than-truckload) network. "That's going to mean paying for some amount of empty space, and you'd be surprised how much that can add up with dozens of store projects," says Vines.
On top of that, all those vendor-direct deliveries are not only expensive but also require lots of semis on the road—and a bigger carbon footprint. "If you're a retailer looking for ways to be green, you're missing a big opportunity to show your customers and shareholders that you're implementing more eco-friendly business practices."
How FF&E consolidation helps: Reduce deliveries, increase full truck loads
Let's first address all those LTL shipments. A consolidation approach minimizes them because you're now able to buy in bulk volumes for multiple stores all at once. That means you're likely to have both more full truckloads and fewer overall shipments.
And when it's time for your consolidator to ship to a site that's being converted, you'll likely be saving money yet again with full truckloads. That's because your consolidator can fill up a truckload with your fixtures and with the store supplies you're warehousing with them—everything from shopping carts to registers to entrance carpets.
How big of a deal is the full truckload factor? Vines points to an example where a major retailer saved around $300,000 over the course of 105 store projects.
And what about reducing environmental impact? Consolidation involves combining what would be numerous deliveries into one, thereby reducing the amount of trucks on the road and the carbon footprint your store conversions require.
Step 4. Facilitating the installation process
As soon as FF&E arrive at your acquired store sites, many of the items will require installation as fast as possible. Then, resale products can start rolling in, doors can open, and revenue can start flowing.
However, installation can be delayed when orders are late and trickle in over days or problems with orders are discovered.
How working with a consolidator helps: Rely on everything arriving all at once
With consolidation, your deliveries arrive at each store site precisely when you need them—with all the FF&E required.
Also, the chances of order problems are greatly reduced: Your consolidator has already inspected your vendor orders upon arrival to the warehouse and has audited your entire store order prior to delivery.
Now, with nothing holding them up, installers can work faster. "In fact, assuming the buildings are prepped and you have installers at the ready, you could even compress the timeline and lay out an FF&E delivery schedule for, say, 25, 50 stores a week," says Vines.
Seize the opportunity to transform your store conversion program
You've just seen a variety of ways that FF&E consolidation helps retailers convert newly acquired stores much more efficiently. For more details on how consolidation can help you, be sure to contact Store Opening Solutions to start a conversation.
For nearly 30 years, our consolidation services have helped retailers like Tractor Supply Company, Dollar General, and many others grow much more efficiently and cost-effectively.
Of course, your store conversions (and store openings and remodels) involve a lot more than just FF&E. Fortunately, Store Opening Solutions is part of Marmon Retail Solutions, a retail-focused family of brands that can help with your store projects in a range of ways.
For example:
Is it time for a new fleet of shopping carts? Unarco manufacturers safe, reliable shopping carts that can withstand the wear and tear of retail.
For support with needs such as site rebranding, retail site surveys, code checks, and installation of signs and fixtures, Big Red Rooster Flow is a leading provider of outsourced project and program management services.
Also, the right material handling equipment that Cannon Equipment designs and engineers can help your associates work more safely and efficiently.
And those are just a few examples! Learn more about all of Marmon's retail-focused brands here.
About Store Opening Solutions
We support the strategic vision of retail organizations with focused expertise in the consolidation and installation of store fixtures and equipment. Our dedicated team embraces your vision and partners with you to create appropriate inventory control processes.