When it comes to store openings and remodels, retailers often struggle with making sure fixtures, furniture, and equipment (FF&E) arrive on time. On top of that, they can also spend way too much on both their FF&E purchases and the associated transportation costs.
Fortunately, inventory consolidation is a proven solution—but how does it work?
In this post, we'll delve into the step-by-step process of consolidation, a strategy for handling FF&E that's helping retailers overcome rising costs, vendor delays, supply chain problems, and delivery snafus.
(If you're not clear on what consolidation actually is, be sure to check out this post: What Is Inventory Consolidation for Retail Fixtures?)
1. Planning and ordering inventory for consolidation
The typical sequence of a consolidation program begins with you meeting with Store Opening Solutions. We'll familiarize ourselves with your inventory requirements and map out how your FF&E will flow through our warehouse system.
Your next step is to begin placing orders for upcoming store projects, generally allowing lead times of around four to twelve weeks, depending on the mix of domestic and imported items.
"You'll want to organize your vendor orders by longest to shortest lead times," says Phil Vines, Director of Business Development for Store Opening Solutions. "That way you can be sure to ultimately have everything in stock with us when you need it."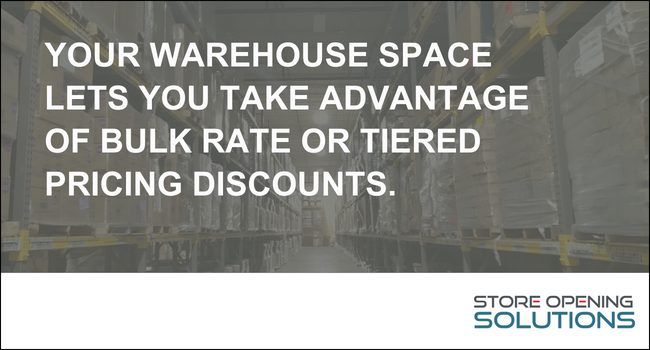 Note that with consolidation you're more able to take advantage of bulk rate or tiered pricing vendor discounts because you have a dedicated space to store your FF&E. "Now, even with the consolidation fee," says Vines, "you could still be pocketing tens of thousands of dollars you'd never have in the first place."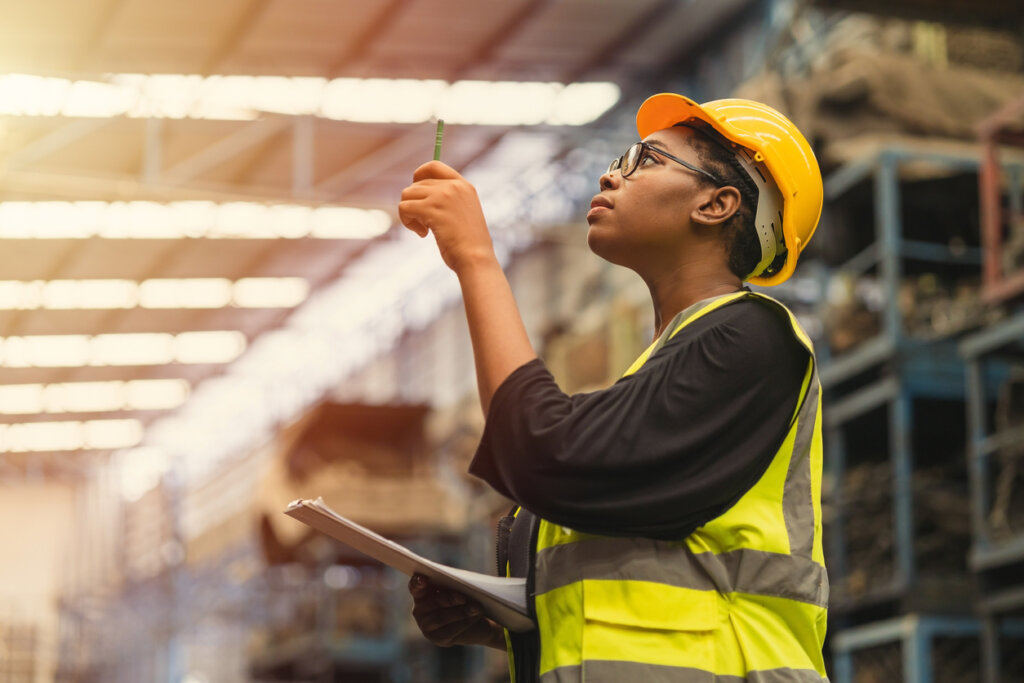 2. Receiving and inspecting your FF&E inventory
With your FF&E orders in process, each of your vendors will schedule an inbound delivery to Store Opening Solutions. When deliveries arrive, your inventory is now in the hands of trained warehouse associates who are dedicated to your account.
They'll first verify the inbound inventory matches the appointment on the delivery schedule. Then, they'll inspect the freight for any problems. More specifically, they'll be looking to see if any OS&D claims (over, short, and damaged) need to be filed.
Most of the time there are no freight problems. But if a claim is needed, SOS will alert you and can assist with filing it, either with the vendor or with the carrier. "Keep in mind that with a vendor-direct scenario, there's no real audit trail for claims," Vines says. "If things are missing or damaged, you may have to just buy FF&E again at your own expense."
Also at the receiving stage, associates will barcode-scan your inventory. This lets you stay up to date on all received inventory through our INVision inventory management system, which you can access 24/7.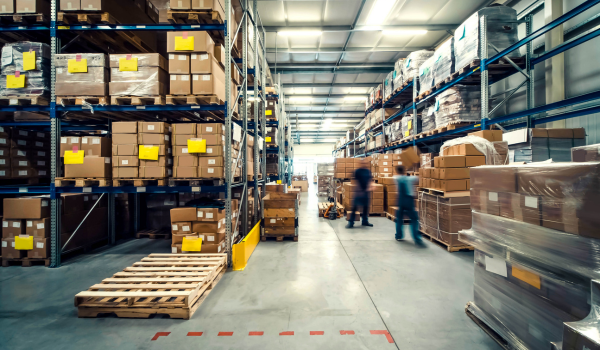 3. Warehousing your FF&E for when you need it
After receiving and inspecting your FF&E, associates will move your inventory to a designated pick slot in the warehouse with an associated number.
"At any given time we'll know where every piece of inventory is—and you can see that too through the INVision system," explains Vines.
Your inventory is now held in a secured building to prevent both theft and damage while in storage. In addition, all your items sit carefully organized in a way that expedites the next important step: picking.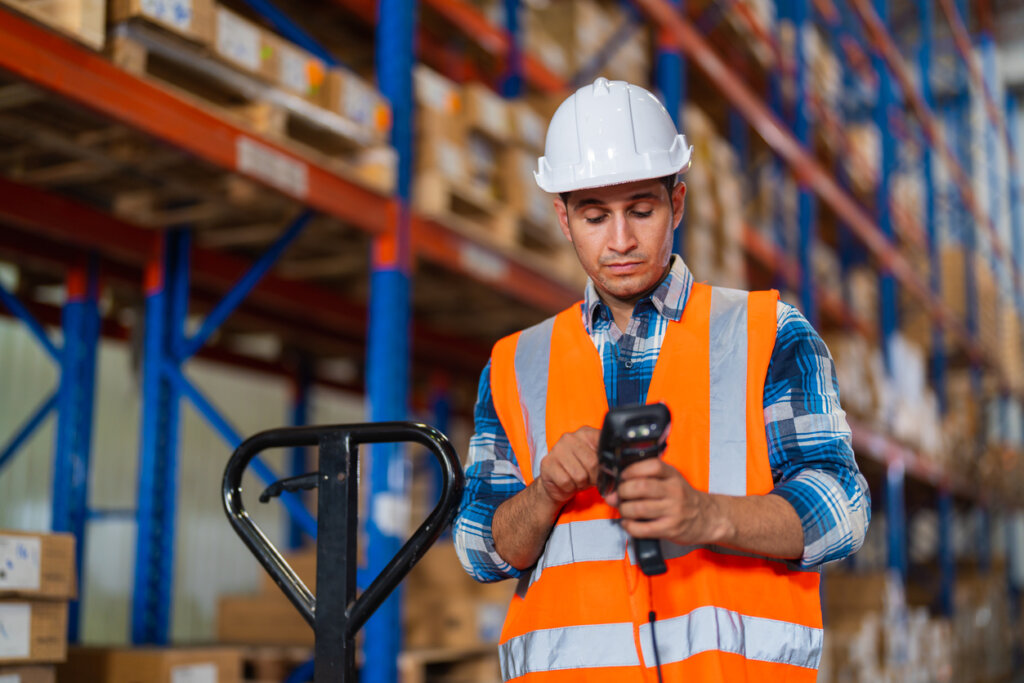 4. Picking to fill your store orders accurately and efficiently
Once you have a store project date on the near horizon, it's now time to issue a store order with us, which can be done through the INVision system or in whatever way works best for you.
"You'll want to give us two to three weeks to do everything needed before your order ships, including scheduling delivery transportation," Vines says. (More on that below.)
As for picking items for your store order, we use warehouse technology and proprietary systems developed over decades to generate the most efficient picking sequence for warehouse associates.
With the help of "pick sheets" and handheld scanning devices loaded with all the necessary info, those associates can be accurate and ultra-efficient when picking your store order and assembling your items on outbound pallets.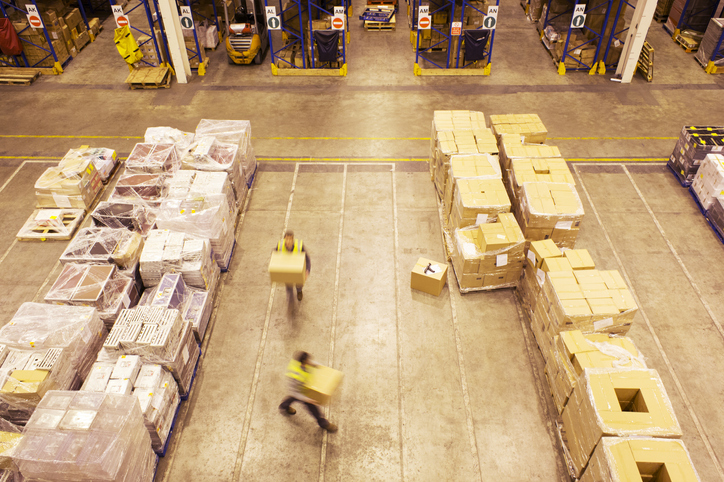 5. Staging for a smoother process at the store site
As the associates pick your order, they're also staging it by creating strategically organized pallets with multiple SKUs and placing them in a particular sequence. Vines says, "This can ultimately make the installation process go much smoother when those pallets are unloaded at a store site."
The staging phase also involves a team leader or supervisor who audits the entire assembled order to make sure that it was picked correctly and staged properly. If anything is missing or some other problem is discovered that's beyond our control, we'll alert you and ask how you want us to proceed.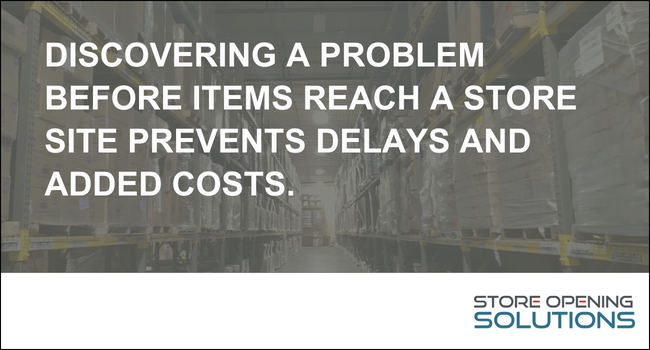 Discovering a problem before your items reach a store site prevents potentially serious disruptions to your project workflow and minimizes extra costs incurred from rush deliveries and added installation time.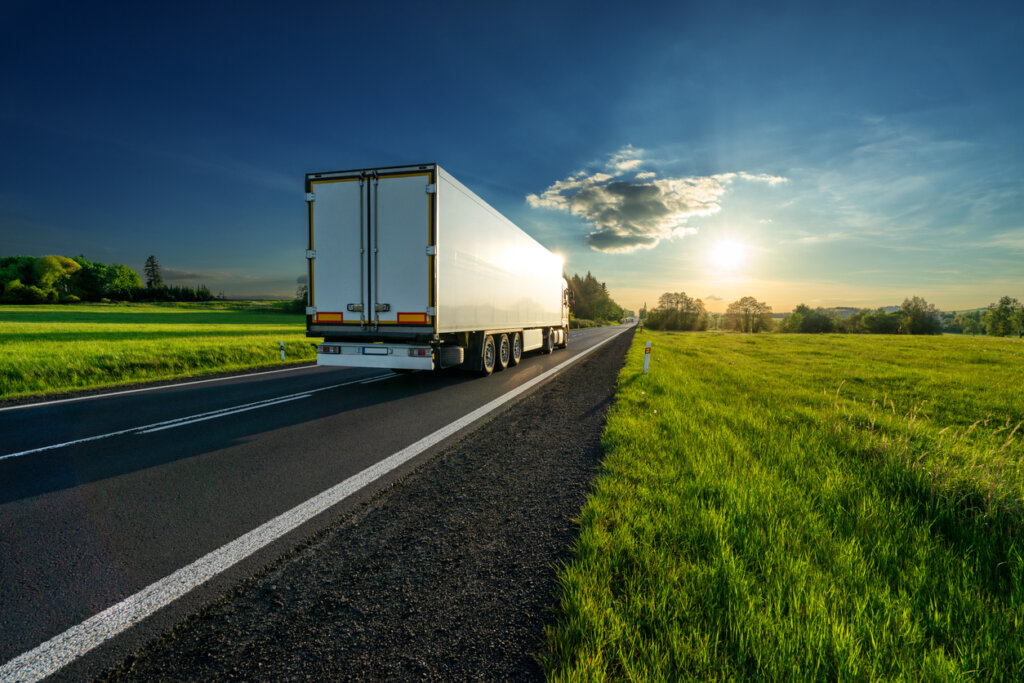 6. Delivery to keep your project on schedule
With consolidation, you won't need to coordinate with multiple vendors as you attempt to have your orders arrive just in time. Because all your FF&E is already with us, you simply need to let us know when you want your order to arrive at a store site.
With so much riding on a perfectly timed delivery, we use a full-time logistics and transportation team who focuses solely on planning and coordinating store deliveries. And if you can give us the go-ahead on a delivery date a minimum of five days out, we can make it happen.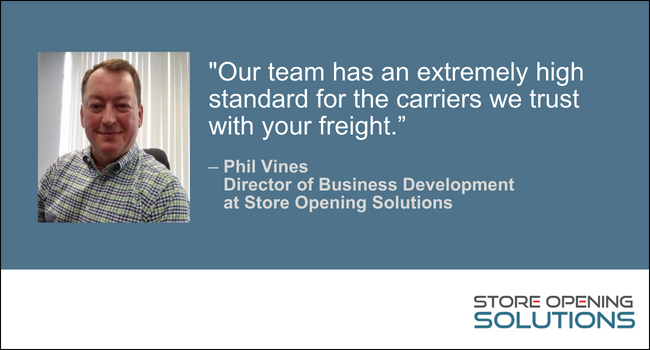 "Our team has an extremely high standard for the carriers we trust with your freight," says Vines. "We also go out of our way to treat carriers well so they appreciate hauling for us."
All of this helps create the circumstances for headache-free deliveries that enable your installers to stay on—or even ahead of—schedule. There's also the bonus of flexibility. According to Vines, "You can change a delivery date, stop a delivery in process, or even change up the contents of a delivery with just one phone call or email to us."
Now make it real: See how this process can work for you
If you're a retail chain with a steady schedule of store openings and/or remodels, then you're an ideal candidate for gaining the advantages of FF&E consolidation. You've just gone behind the scenes to understand the fundamentals of the consolidation process. Now it's time to learn how this inventory strategy can work specifically for you.
With so many potential fixture-related challenges in play today, this could be the perfect time to start building a new system—and an inventory of FF&E for your upcoming projects.
Store Opening Solutions can help. For nearly 30 years, our consolidation services have helped some of the biggest names in retail transform their store project programs and grow much more effectively. Be sure to contact us to start a conversation.
About Store Opening Solutions
We support the strategic vision of retail organizations with focused expertise in the consolidation and installation of store fixtures and equipment. Our dedicated team embraces your vision and partners with you to create appropriate inventory control processes.